Ever since we played Taboo last Christmas, Karen, Jolene and I have been thinking of organizing another games night to relive the fun that we had. The original plan was to head down to Sushi's place as I've not seen her since Leo's first month! Alas, Sushi wasn't home that day so we popped over to Karen's place for games instead.
Before games, we had an unhealthy but absolutely delicious dinner at Tonkichi with fried pork fillet and pork loin.
This is my favourite restaurant for deep fried Japanese pork. Every slice is covered in a light batter and fried to perfection, without any hint of oiliness.
If you haven't tried Tonkichi, you should! There're outlets at Suntec, Takashimaya, Tampines Mall and Shaw Centre (Lido).
Karen prepared creme brulee for dessert at her place (her first time!), but the bottle of butane gas she had didn't fit the chef's torch and she wasn't able to caramelize the sugar coating on top. That was when Ethan came to the rescue by cleverly improvising on the spot with existing tools. Check out the flame below! Poor Ethan burnt off the hair on one of his fingers while he was at it. Thankfully, his efforts were not futile, for at least we got to savour the yummy final product eventually!
While Ethan was busy in the kitchen, JW was busy arranging all the photos in the living room to ensure that they were perfectly aligned. He does that at home too and without fail, I would always tease him about his obsessive compulsive disorder! He expects every picture to be straight and evenly spaced.
Whatever it is, having two men doing housework at the same time while the ladies watched on in amusement was indeed a rare sight.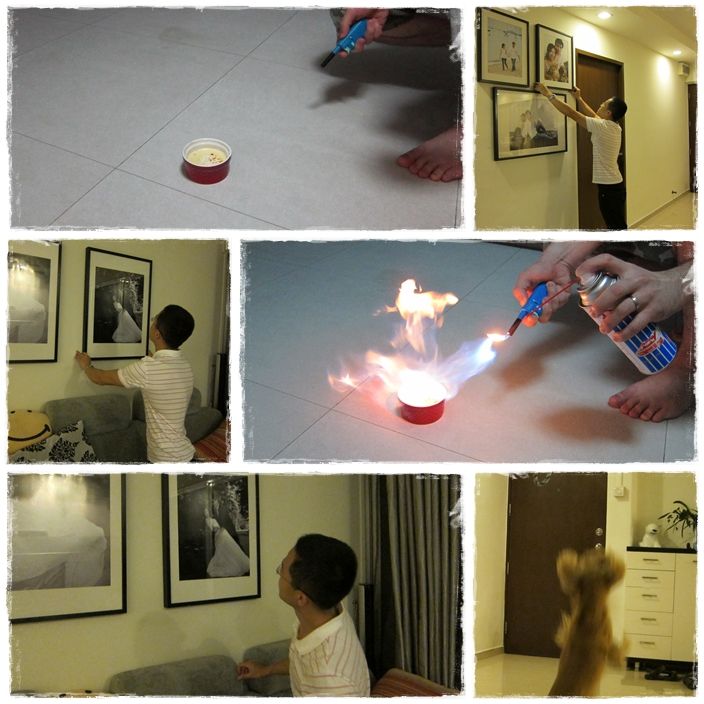 Then, it was on to games. Karen and Ethan were great hosts. We had tea, lychee martini and a wide selection of snacks to quench our thirst and satiate our hunger (we are always hungry!) while we played Pictureka, Cluedo, followed by Monopoly. Silly me forgot to bring my Monopoly Deal cards so we had to make do with the board game. Pictureka is quite a hilarious game as everything is contestable. Cluedo on the other hand is pretty intellectual while Monopoly is really just a game of luck.
We paired up for Monopoly. Thanks to JW's greed, we both lost terribly, as you can see from the 3 miserable dollars that we had at the end of the game. The games carried on for hours and we only called it a night at 5am!