I was craving for tau sar pao (bun with red bean paste) and was determined to get my fix at Forty Hands. I just couldn't get its soft fluffy dough and silky smooth red bean paste out of my mind.


Alas, when we arrived at Tiong Bahru, it had already closed for the day! I didn't know that Forty Hands only opens till 6.30p.m. on Sundays. Feeling somewhat disappointed, we took a stroll in the neighbourhood in search of other yummy food.

Lady luck must have been shining on us, for we stumbled upon a gem of a find - Potion Cafe & Bar, which is located within the premises of Nostalgia Hotel (I know it sounds sleazy but it really isn't!).

We were attracted by its colonial style decor and al fresco dining concept, but the affordable set dinner was what really drew us in. There was a 3-course set dinner offer at S$30++ for UOB card members!
We were a little skeptical at first, but once the appetizers came, we knew we were in for a treat.

Not only did our garlic prawns and bruschettas come in huge servings, they were well-presented and most importantly, very delicious. There were about 8-10 large and succulent prawns marinated in a creamy garlic sauce. I also loved that the bruschettas had just the right amount of basil and tomatoes drizzled in olive oil.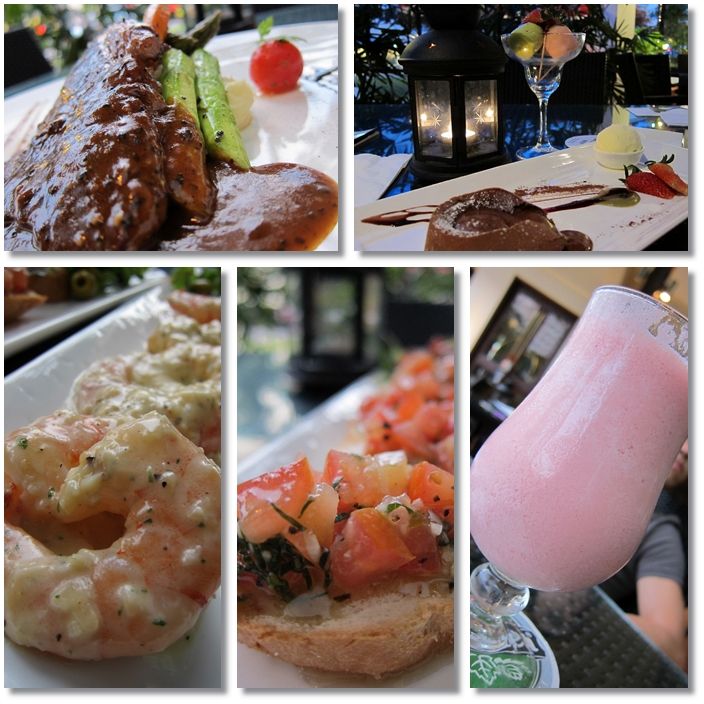 We both had the Wagyu steak for our main course and we have nothing but rave reviews for the salacious steak. After trying the steak at The Cliff, I have been pining for it hopelessly and no other steak comes close, really. And just in case you were wondering, no, Morton's doesn't even come close.
Surprisingly, I thought the steak here was the 2nd best steak I've had since The Cliff's.


The meal ended on a sweet note with desserts and I had absolutely no complaints about that either. I think that says a lot given that I am a rather fastidious eater.

I would highly recommend this cafe for its value-for-money set meals and affable service.
The quality of the food, despite the pocket-friendly price tag, left me quite astounded.


Here's the address for those who are interested in trying it out:

Potion
Cafe & Bar

Nostalgia Hotel
77 Tiong Bahru Road

Singapore 168727