We've been planning an all girls trip for eons and it finally materialized last week! It has been a while since I last went to Hong Kong (probably 2-3 years back?) and I was glad to have the opportunity to rediscover the city.

The main objective of this trip was to scout for bargain buys. I'm sure you girls must be anxious to find out where I bagged most of my purchases. Well, I'll be sharing more here and in subsequent posts. ;)
I will also be posting up my hauls in my WIWT posts at the end of each week, so do look out for them if you are interested.
Now, here are photos from the first day of my trip.
We woke up on a dark (not bright at all because we were up by 4am!) and early morning to catch our 6am flight to Hong Kong. All of us wore sunnies on the Airport Express because we barely had any make-up on.
Ravenous by the time we arrived at Royal Plaza Hotel, we grabbed a quick meal at Fairwood, a fast food chain that serves pretty average Chinese and Japanese food. Then, it was time to return

to the comfort of our hotel to laze around a bit, freshen up and prepare for our shopping escapade!
The hotel is very accessible and is within walking distance to most of the shopping malls/streets in Mongkok. The rooms are ginormous by Hong Kong's standards and the beds are so comfortable you'll fall asleep instantly. Believe me, you wouldn't want to get out of bed unless you are hardcore shopaholics like us.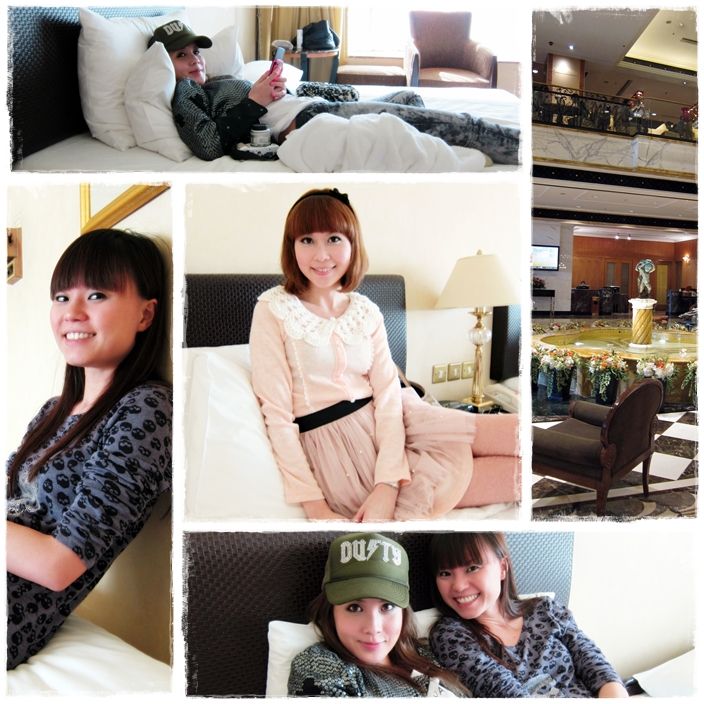 Our first stop was

Fa Yuen Street (花园街)

, which is similar to Bugis Village in Singapore. There are so many boutiques and street stalls that resemble the pasar malam stalls that we have here. I bought very cheap Vivi-inspired lace shorts and gyaru-style tops here. What's my definition of cheap? Like S$10-20 per piece!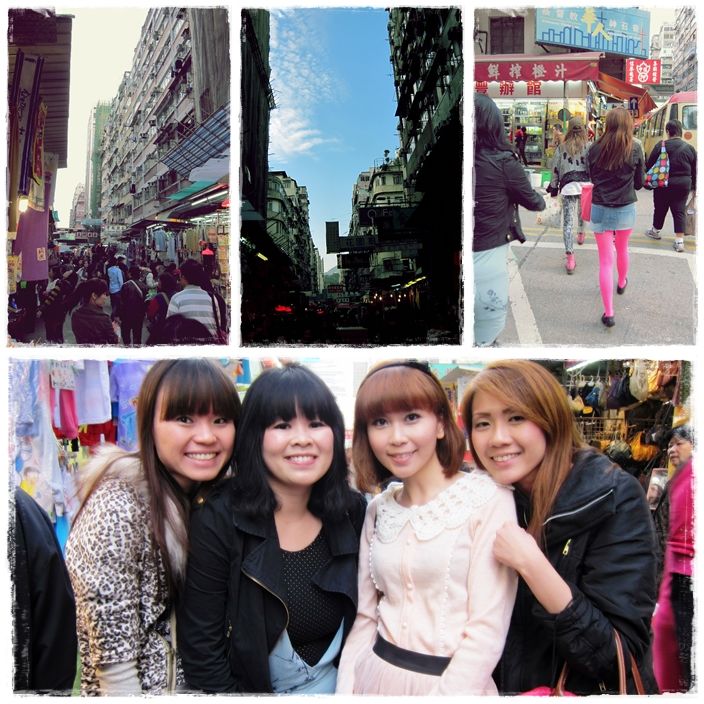 We also took a short walk to

Argyle Centre (旺角中心)

, a must-go mall for all of us. The walkways are very narrow and flanked by a myriad of little shops selling everything from apparel, shoes, bags and accessories at affordable prices. It is almost like a cross between Far East Plaza and Bugis Village.
I bought most of my bags, shoes and clothes from Argyle Centre. Everything here ranges from S$10-30 for clothes and bags. Shoes are generally a little pricier, at about S$40-50 a pair, especially if they're replicas of designer footwear or of better quality.
One word of caution though, this mall can get terribly crowded after office hours and on weekends. On weekends, you can hardly walk past a shop without being sandwiched between fellow shopaholics. The experience is akin to being trapped on an MRT during peak hour with little ventilation and no way of getting out (just like what happened this morning)!

This mall is a treasure trove and I love everything about it except the crowd, so if you are planning to make a trip there, do go on a weekday to avoid the human traffic. ;)
When night falls, you may want to visit the
Ladies Street (女人街)
, also located in the Mongkok district. This street used to be lined with boring stalls selling poor quality designer replicas and souvenirs that aren't worth a dime. It didn't help that the stall keepers were rude and fond of chasing potential customers away if they appeared uninterested in the products.
The good news is, all that has changed. Now, the wide variety of merchandise here is a huge draw. The stall keepers are also very friendly and eager for customers, so bargain all you can! The Vivi-inspired leopard print fur bag in my previous WIWT post was purchased in Ladies Street when the stall was about to close for the night. After much haggling, I bought it at only about S$20. What a bargain!