Besides its glorious food and shopping haunts, Hong Kong is famous for its night life as well. You

could take a tram up the peak for a breath-taking view of the city's landscape, pop by avenue of stars for the symphony of lights show and then head down to Lan Kwai Fong for a drink or two.
All of us took our own sweet time to dress up for our night out. We were all decked out in our latest acquisitions from Hong Kong.
Neon Pink & Beige Tube Dress: H&M

Fur Jacket: Argyle Centre (a steal at just S$30!)
Pink Satin Straps Platform Shoes: Argyle Centre (S$30-S$40)


Our first stop was the
Avenue of Stars
at Tsim Sha Tsui Promenade. Inspired by Hollywood's Walk of Fame, Avenue of Stars honours over 100 Hong Kong celebrities by placing imprints of the artistes' hands along the pavement, against the backdrop of Hong Kong's beautifully lit skyline. This is where you'll also find statues related to the film industry, including those of celebrities such as Bruce Lee.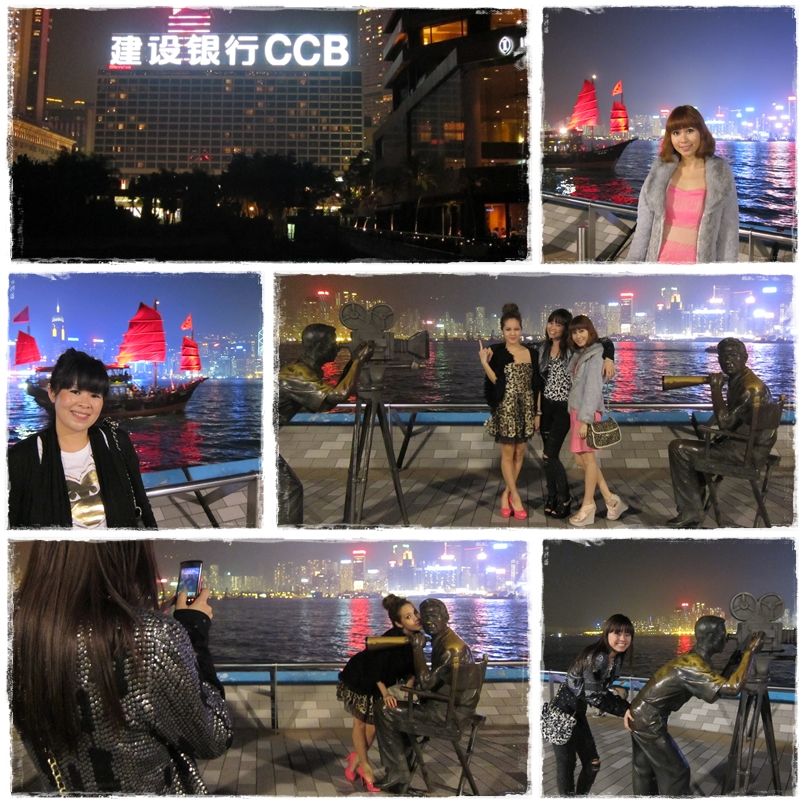 We were late for the symphony of lights show, but we had lots of fun posing for the camera. Check out the first photo on the left hand side in the above collage. For Singaporeans, you may recognize the acronym of a certain Hokkien vulgarity on the building. LOL.
We then grabbed a quick dinner (yummy congee!) at
Wong Chi Kei restaurant
before heading down to Lan Kwai Fong.
Wong Chi Kei
is
a famous congee and wonton noodle restaurant located at Central, just opposite
Yung Kee
, another restaurant that is renowned for its Peking duck and roast meat.
Lan Kwai Fong
is probably the most popular nightlife district in Hong Kong. It is often jam packed with expatriates, tourists and locals.
Be prepared for loud blaring music, drunkards along the road (check out the uninvited guest at the bottom-left right photo in my collage above) and huge crowds along the steep cobbled slopes. Go there with an open mind and I'm sure you'll have a great time. :)

We were at

Marlini

, this tiny little bar with extremely loud hip hop music and very spontaneous patrons who were not afraid to show off their dance moves on the street. After Marlini, we went to a club called

Liquid

, only because the bouncer waived our cover charges.

I don't know why, but I think the clubbing scene in Singapore has far surpassed that of Hong Kong, especially with the establishment of new nightspots such as Filter. I hardly club in Singapore, but I personally think that Butter Factory and Zouk are much better places to hang out at, as compared to the clubs in Hong Kong.
For me at least, Hong Kong will remain a shopping and eating paradise. As for clubbing? Nah.

Drop me a comment if you beg to differ! I'll love to find out what your recommendations are. :)