Surprise, surprise...this is a beauty post! I was inspired by Chrysa of
Stories and Sequins
who did an awesome post on her beauty products earlier on.

Now, let's take a look at my current staples. For those of you who have been following my blog, you'll probably know that I use Dior's Extreme Fit Supermoist Powder Foundation and MAC's powerpoint eyeliner in Engraved. Occasionally, I'll leave the house with just my tinted suncreen from Drx. :)

Today, I'll share with you some other products that I use in my daily routine too.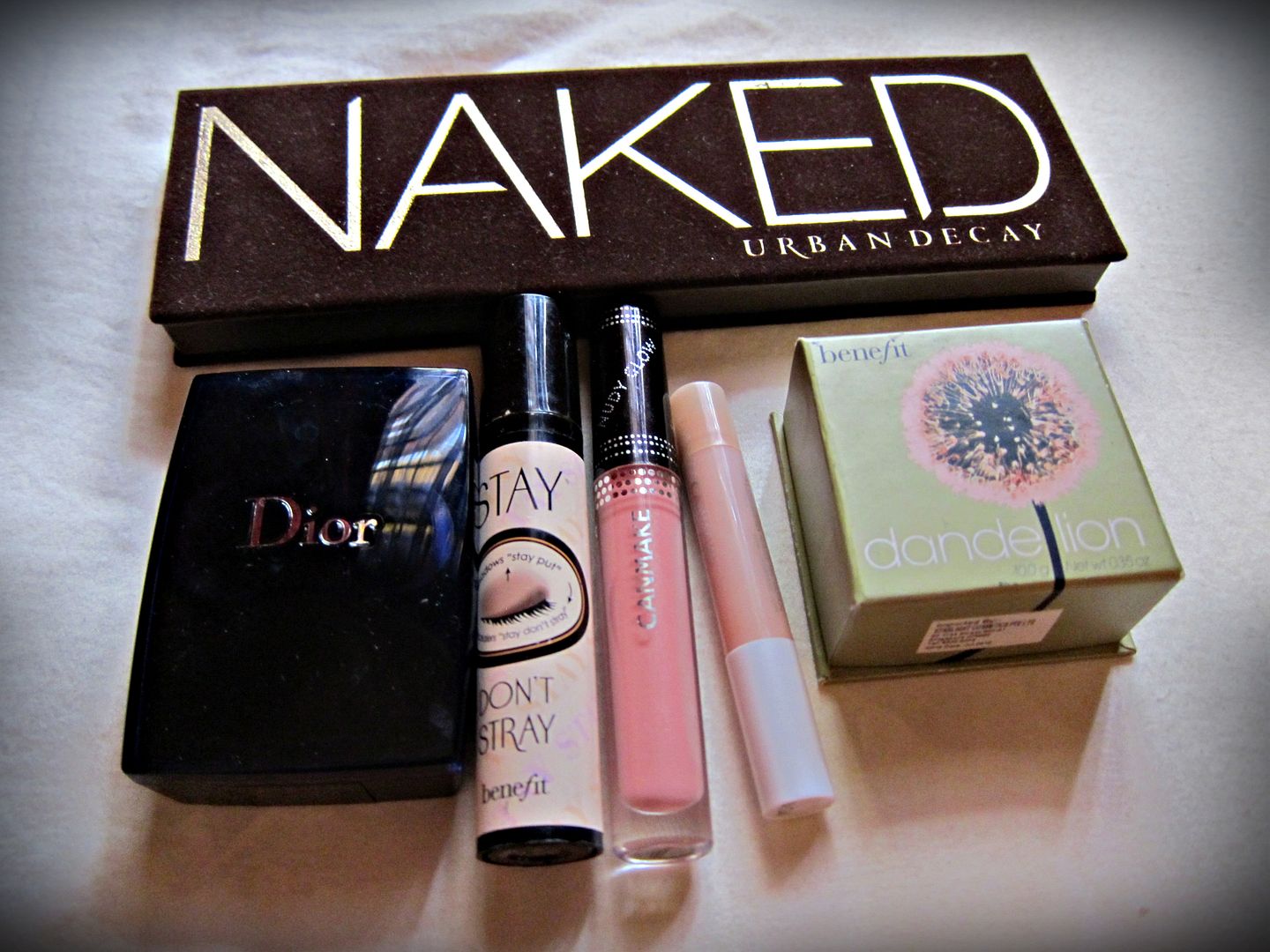 If there's one thing that I can never get enough of, it's eye make-up. I have a multitude of eyeshadows in shades of brown and black. Shimmery, matte, whatever...you name it, I have it.
I'm currently besotted with the Naked palette from Urban Decay and have been using it most of the time. When I'm lazy, I'll just use one shade over my lid. My favourite shades in this palette include Hustle, Creep and Dark Horse.
I have rather severe dark eye circles, so concealer is one make-up item that I cannot do without. Recently, I've been using Benefit's Stay, Don't Stray as a concealer. It's marketed as a primer, which means you're supposed to use it before layering on your concealer and eye make-up, but it comes in a nude shade that conceals my dark circles perfectly well when I have sufficient sleep, so it doubles up as a concealer for me! A little goes a long way. I also like that it doesn't crease like most concealers.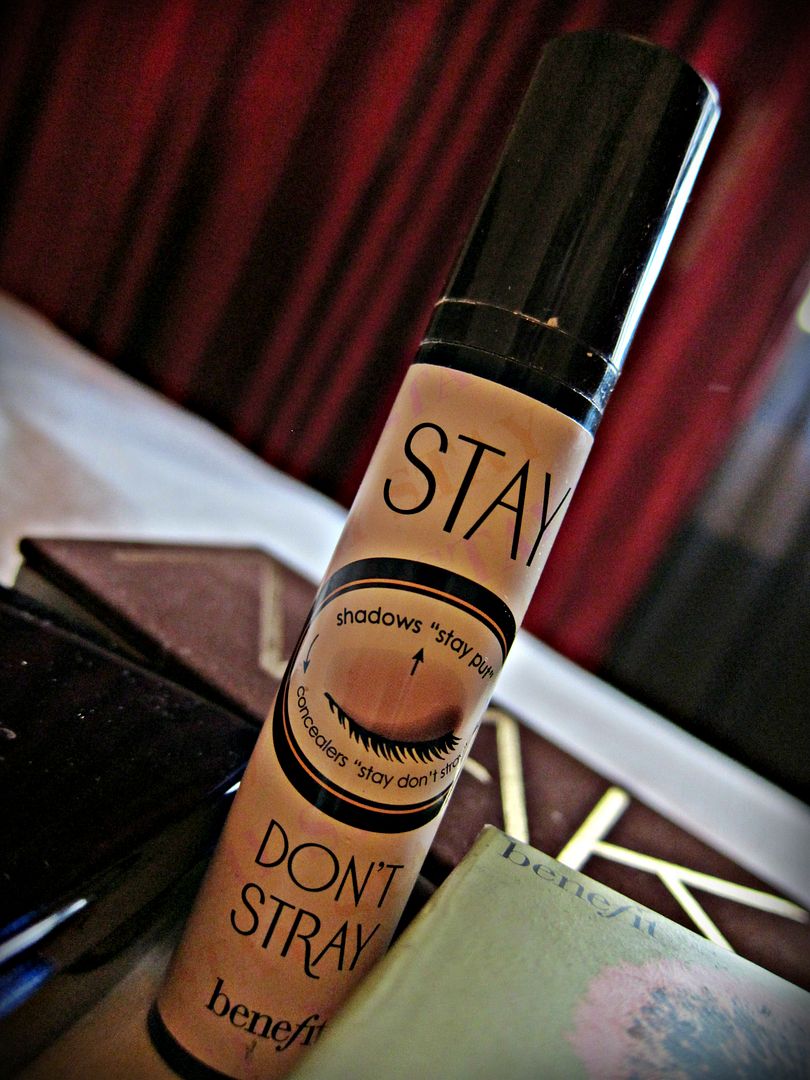 Benefit's Dandelion is a life-saver on days when I need that extra radiance boost. My cheeks are naturally rosy so blusher may not be necessary on most days but I like that Dandelion adds an instant glow to my face on days when I need it. It has such a smooth consistency and is surprisingly easy to blend.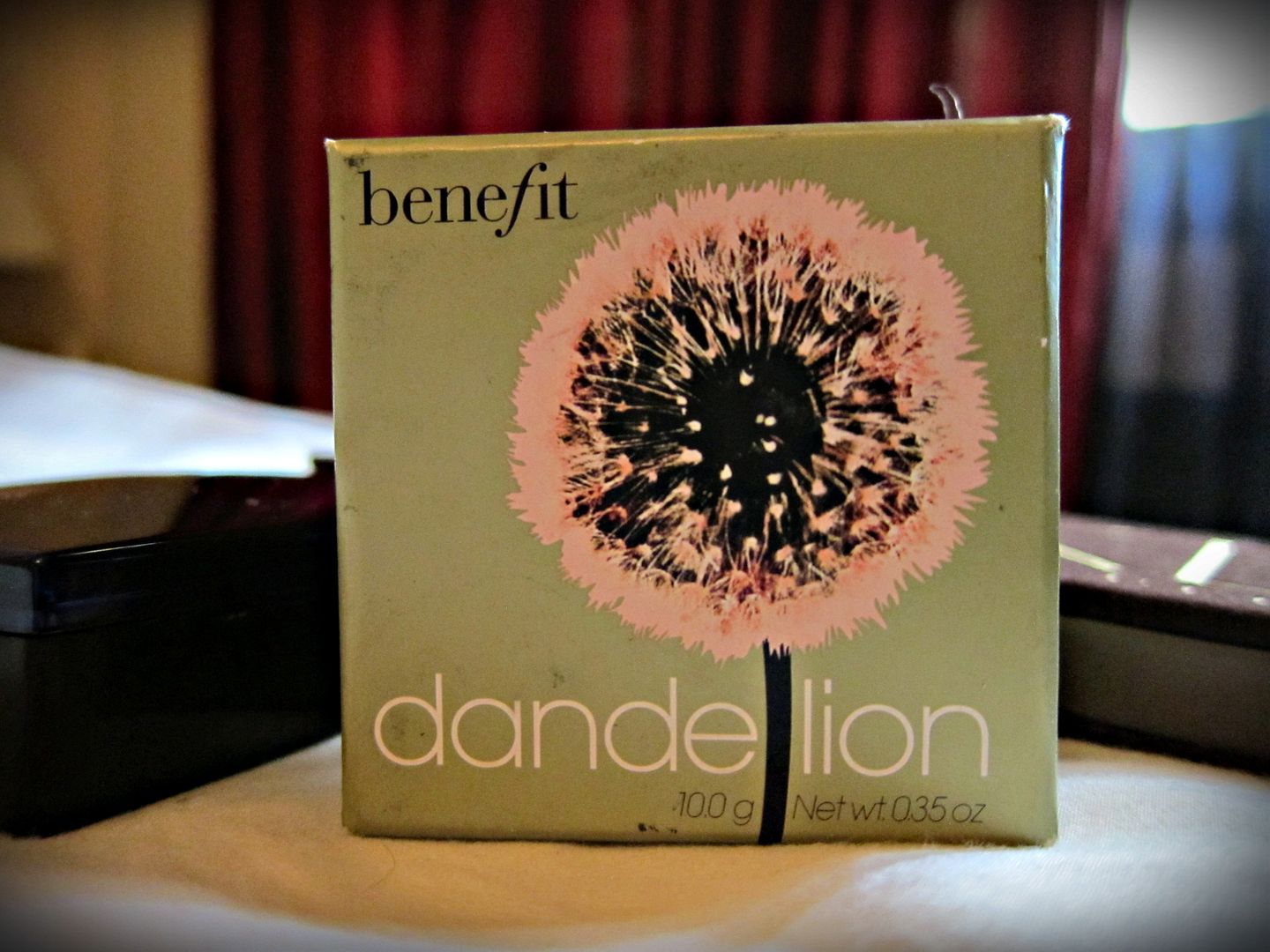 False lashes have also worked their way into my daily routine now because it is so easy to remove as compared to mascara.
This is also my last step after eyeshadow and eyeliner.
My favourite lashes are Dollywink lashes No.1 and No. 2, both of which can be purchased from Watsons stores. I especially like the Watsons store at Nex as it is perpetually well-stocked with Dollywink lashes.
Dollywink lashes come with thin transparent lash bands, which make them very flexible and bendable. The best part is, the lash band is hardly noticeable if you attach the false lashes close to your lash line.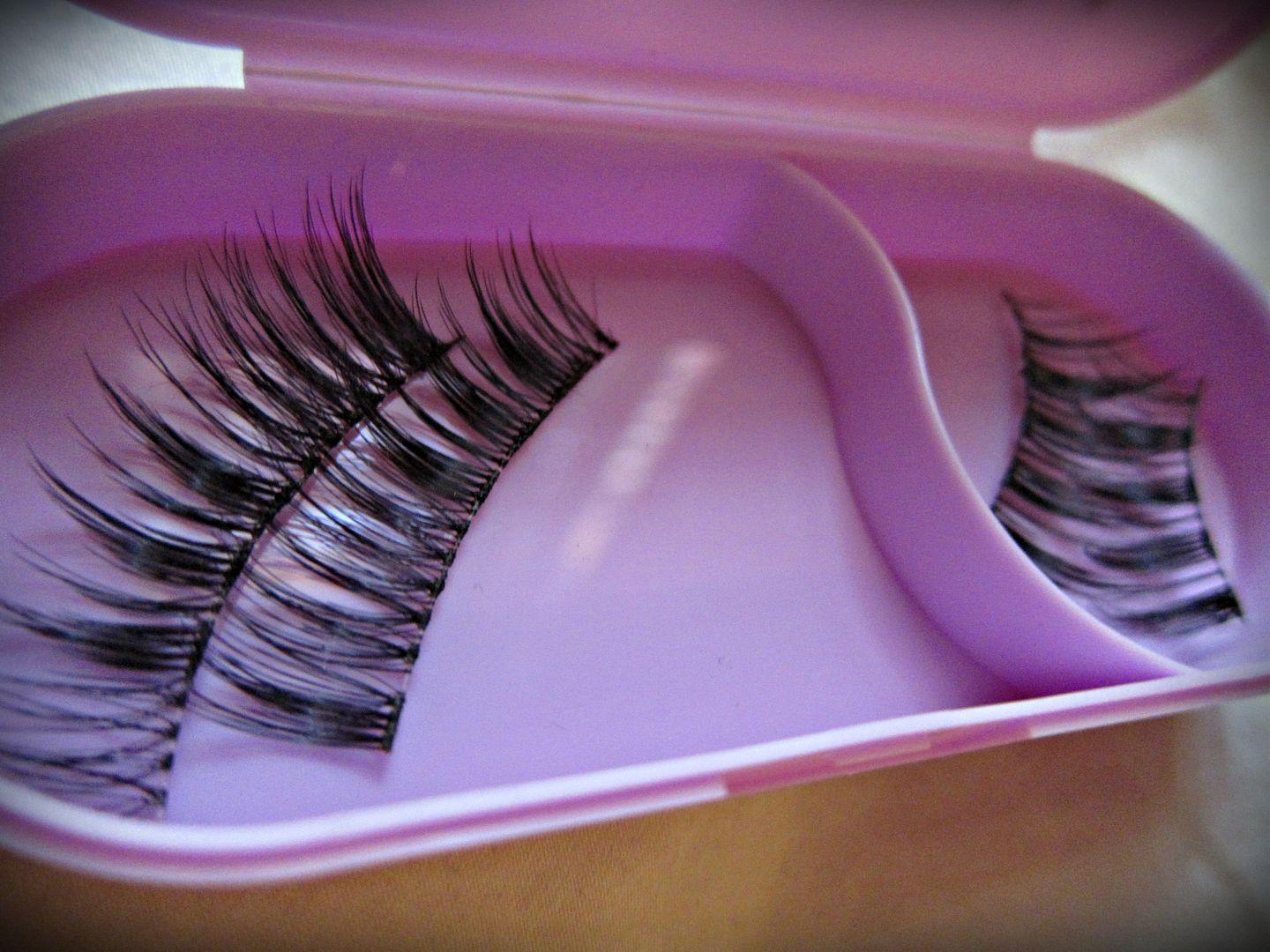 I don't really use lip products although my drawer is filled with them. I only use them when I have functions/events to attend and among them, Canmake's Nudy Glow lip gloss is my favourite. It is very opaque and comes in a nude pink shade, which is perfect for enhancing smoky eye make-up. One gripe that I have about this product is that it can be very drying, so it is important to slather on lip balm prior to application.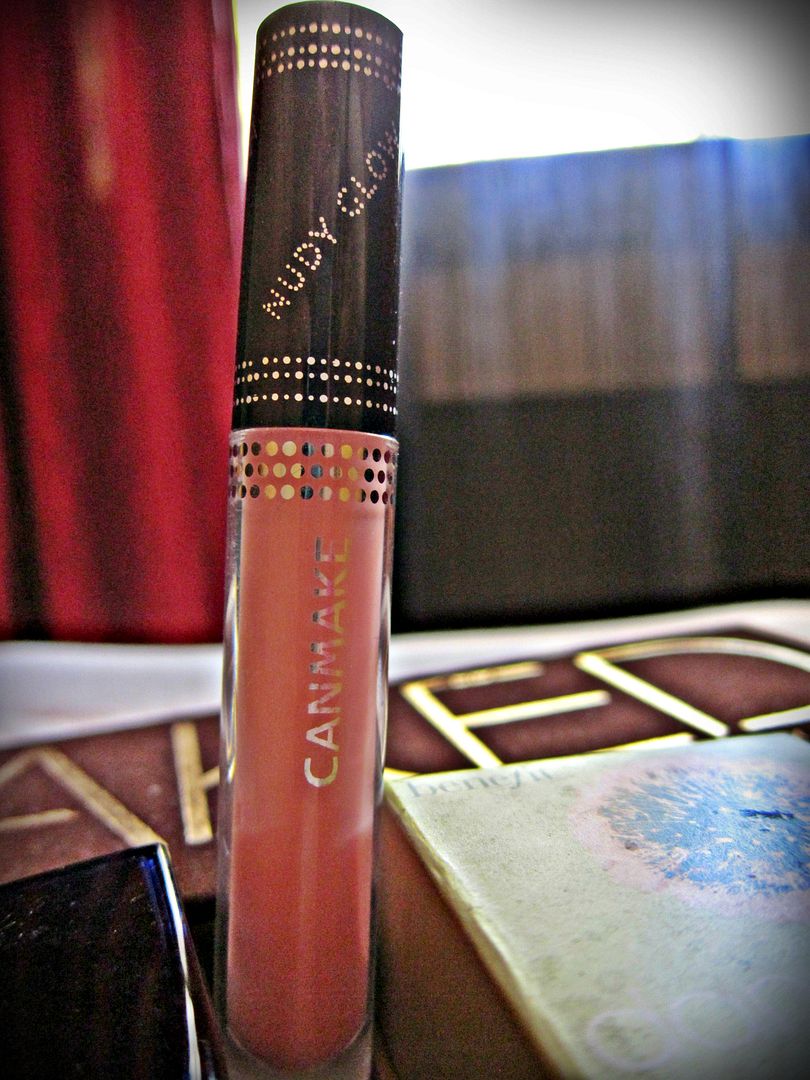 Here's the final look. I also added a dash of shimmery white eyeshadow (Majolica Majorca's WT 963) near my tear ducts to open up my eyes.
I wish I could try out those coloured circle lenses but unfortunately, my astigmatism is way too high. So there, I'll just have to live with my natural pupils!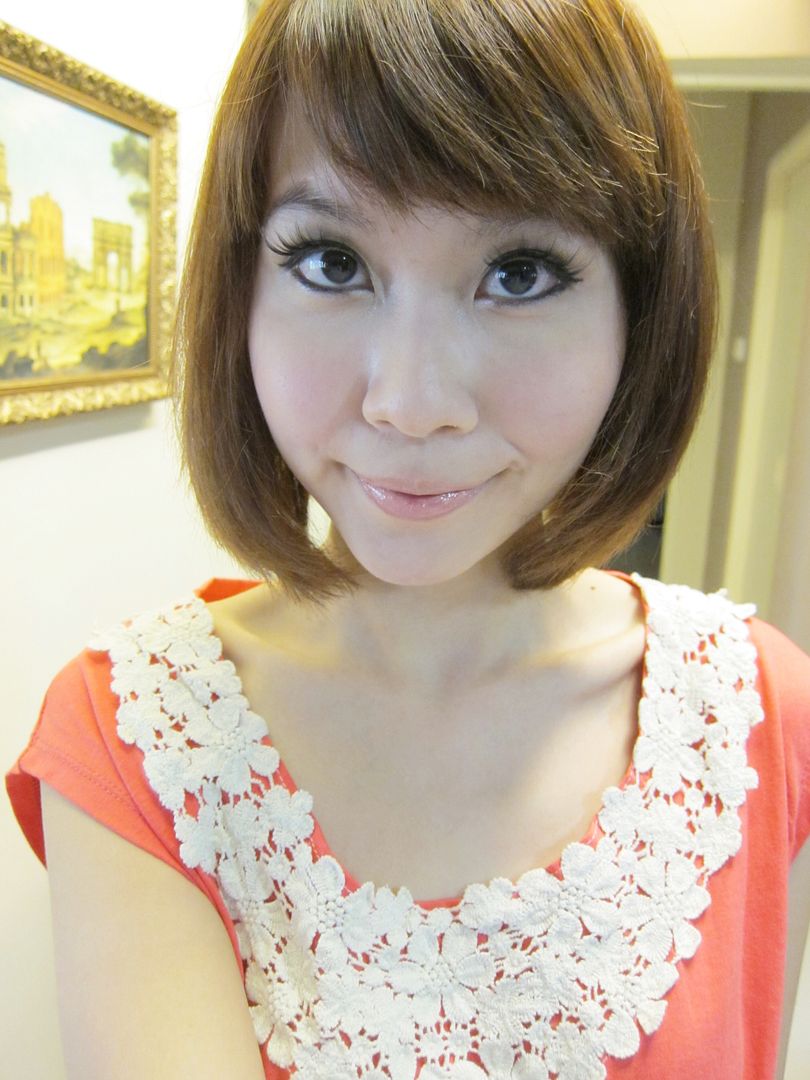 My hair is also growing out. I'm wondering if I should continue growing it out (I miss my long hair sometimes) or keep it short. What do you think? I would be very grateful if you could share your views with me!
If you enjoyed reading this post, do follow me on Networked blogs (click on my blog's left sidebar).

If you like my outfits, follow me on
Lookbook
and
Chictopia
too!