Spring has sprung, and it's time to bare those gorgeous gams. And what better way to begin than with a pair of classic denim shorts! Everyone has a pair of denim shorts in their wardrobe because they never do go out of style, do they?
Instead of pairing denim shorts, especially cut-offs (my favourite!) with the quintessential white t-shirt, or the much sought-after midriff top this season, here're 3 ways to dress up your denim shorts and

NOT

look like you're heading

to the beach!
1) Wear it with a Tailored Shirt
Nothing says chic like a tailored shirt worn with rugged denim shorts. A pair of pointy mules or studded platforms pulls the entire look together. Notice how the casual vibe remains but the style meter has shot up by leaps and bounds?
2) Wear it with a Feminine Blouse
Take a cue from editor Miroslava Duma (who always looks effortlessly stylish by the way) and match your most feminine, billowy blouses with your grunge denim cut-offs. These two unexpected styles work like a dream together, don't you think? Prettifying your rugged shorts has never been easier. ;)
3) Wear it with Bold, Graphic, Crazy Prints
If the previous 2 looks are too mild for you, jazz up your denims with the craziest prints you can find in your wardrobe, ala style icon Miroslava Duma (yes, again!). Load up on edgy accessories in complementary shades to perfect the look!
Now, which of the looks do you like the most? The last look is my favourite because I love the element of surprise created by the mish mesh of prints, colours and denim. The entire outfit screams "Look at me!". In a good way of course.
.
.
.
.
.
.
.
Finally, here's my take on dressing up my denim cut-offs for a casual weekend lunch.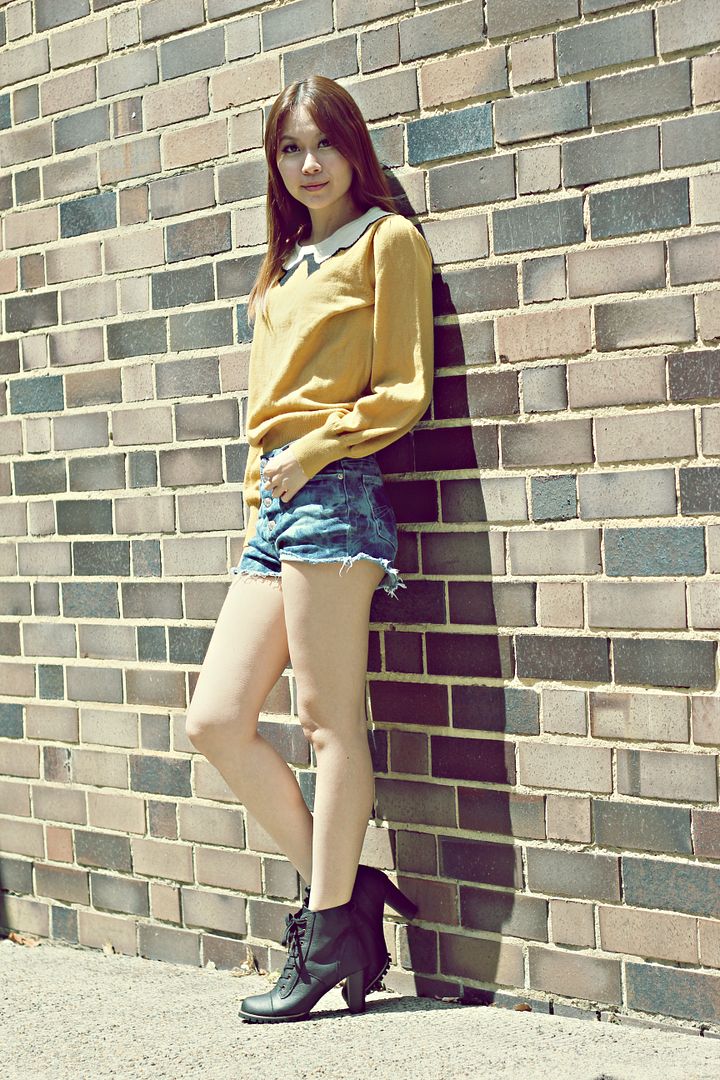 Printed collar sweater from Dip Drops (www.dipdrops.jp)
Vintage denim cutoffs from Glebe Markets
image credits: www.cosmoplitan.com.au, www.pinterest.com