I was invited to try out the hair services at Invogue Singapore a while back. Nestled in the Tampines heartlands away from the hustle and bustle of the city, Invogue Singapore is a gem waiting to be unraveled by hair fashionistas out there!
Invogue Singapore prides itself for its quality rebonding and hair dye services. My hair is naturally very limp and straight, so rebonding was out of the question for me despite all the rave reviews the salon received. However, I was very excited try out their hair dye service because I wanted to dye my hair ombre.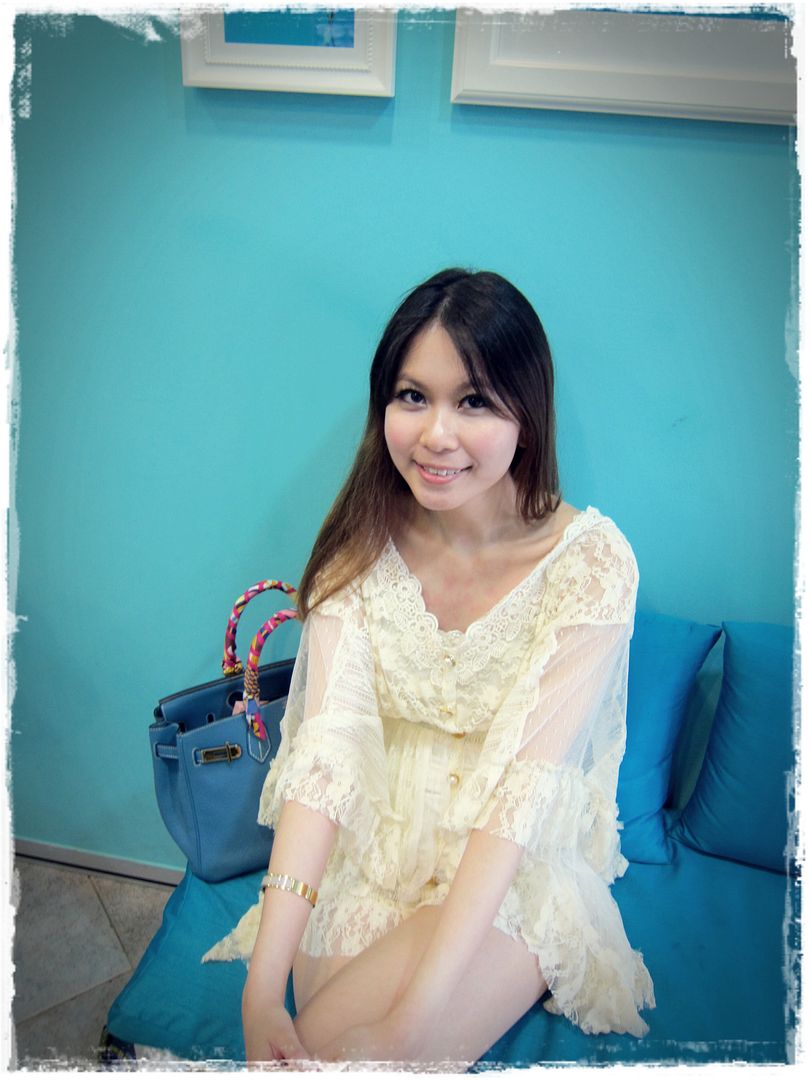 I fell in love with the salon's decor the minute I stepped in. It was recently renovated in a dreamy Mediterranean style, complete with a fresh coat of blue paint accented by white picture frames and shelves. It felt just like a holiday resort, and I was more than ready to indulge in an afternoon of blissful pampering!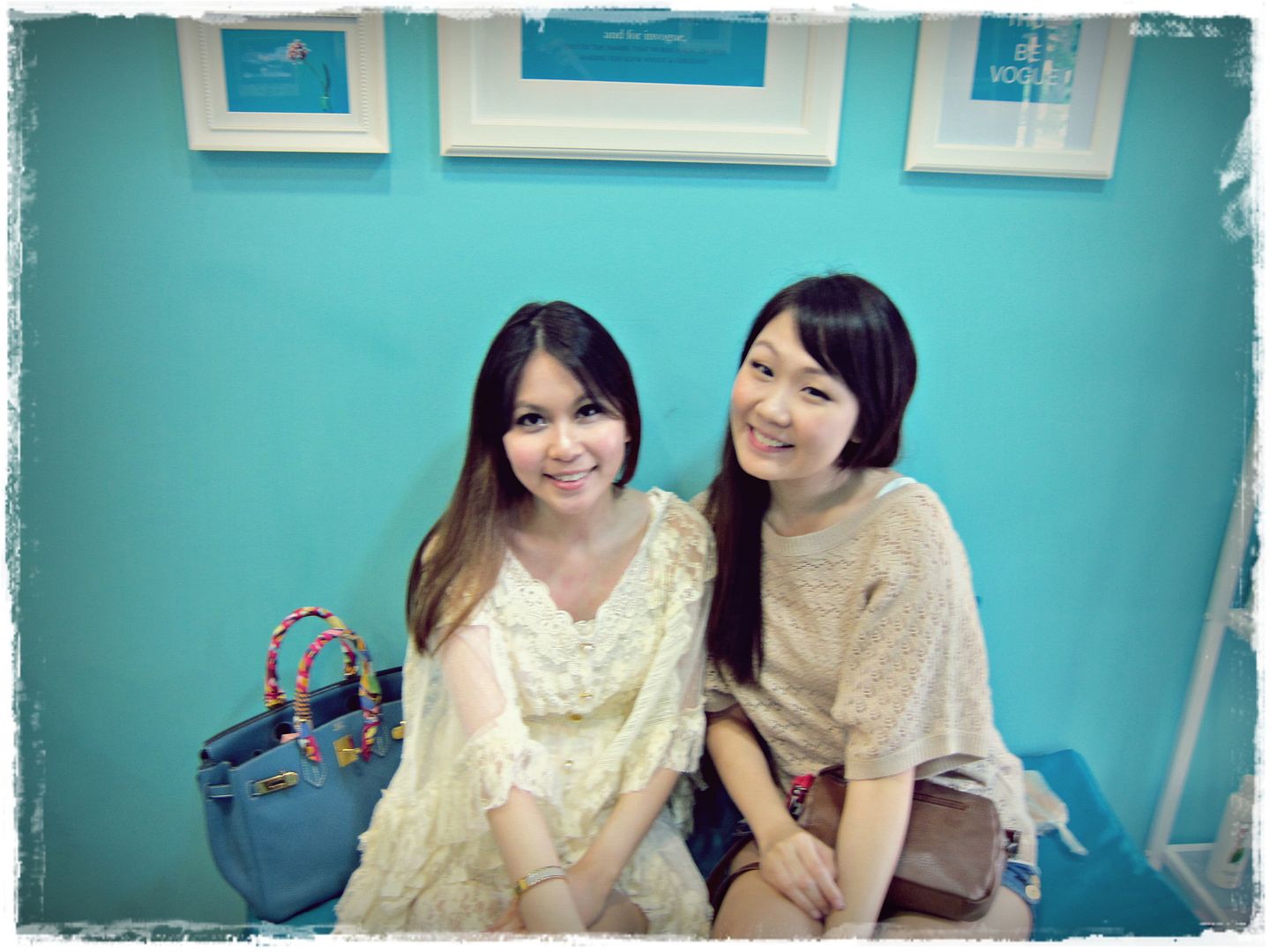 I made a new blogger friend at the salon too! Miyo was there to get her hair checked before she proceeded with her rebonding treatment the following week.
Honestly, how many hair salons these days would bother to do a thorough check to ensure that their client's hair is suitable for certain chemical treatments? We were both very impressed by Invogue Singapore's utmost dedication and professionalism!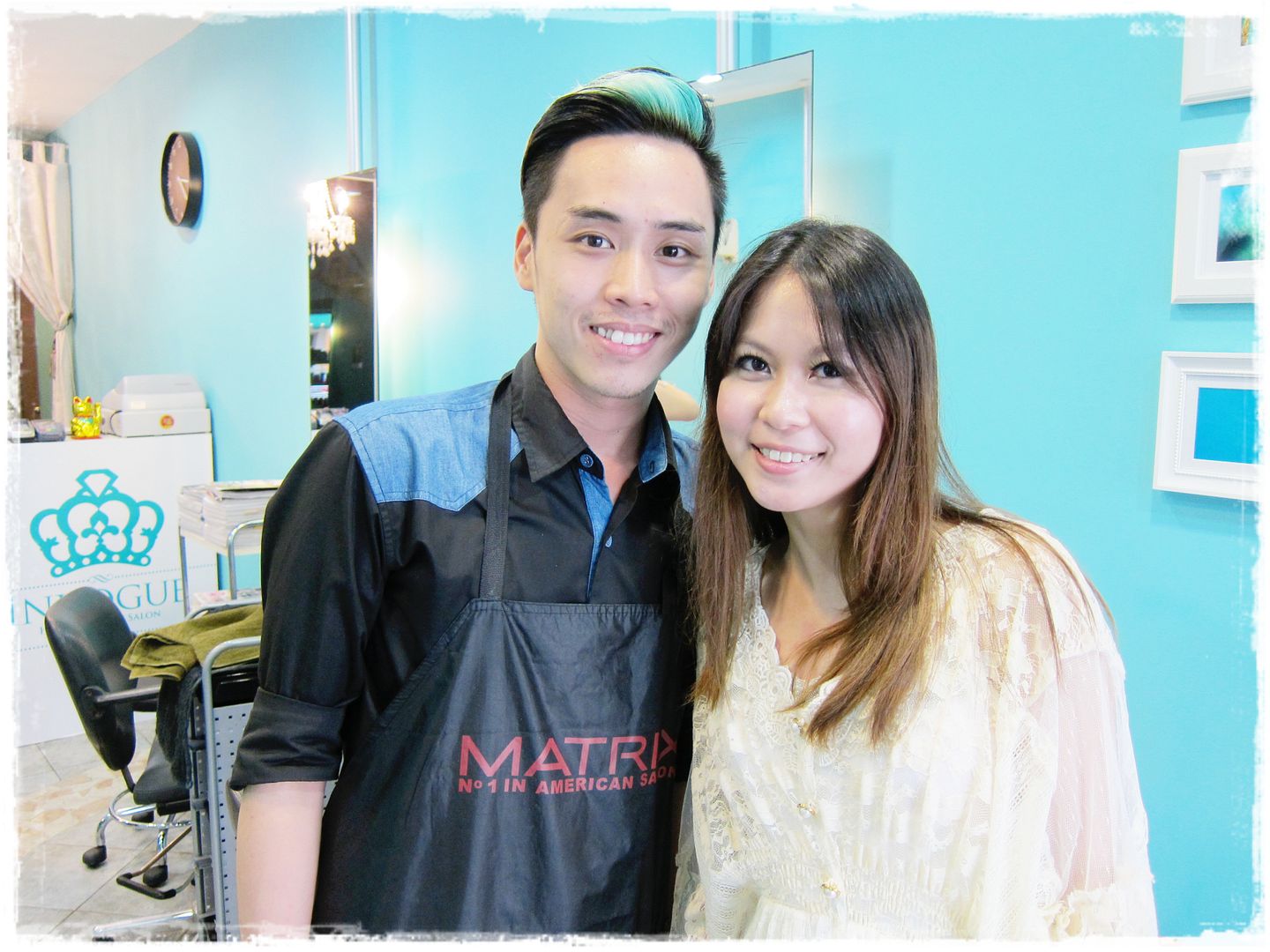 Here's my stylist, Kalvin! Don't be fooled by his youthful looks. Kalvin has 7-8 years of experience as a stylist, so you can rest assured that your hair is in good hands.
I wish I was adventurous enough to try out bright colours, just like that bold streak of blue that he had, but alas, I decided to go with Kalvin's recommendation to dye it brown and ash ombre.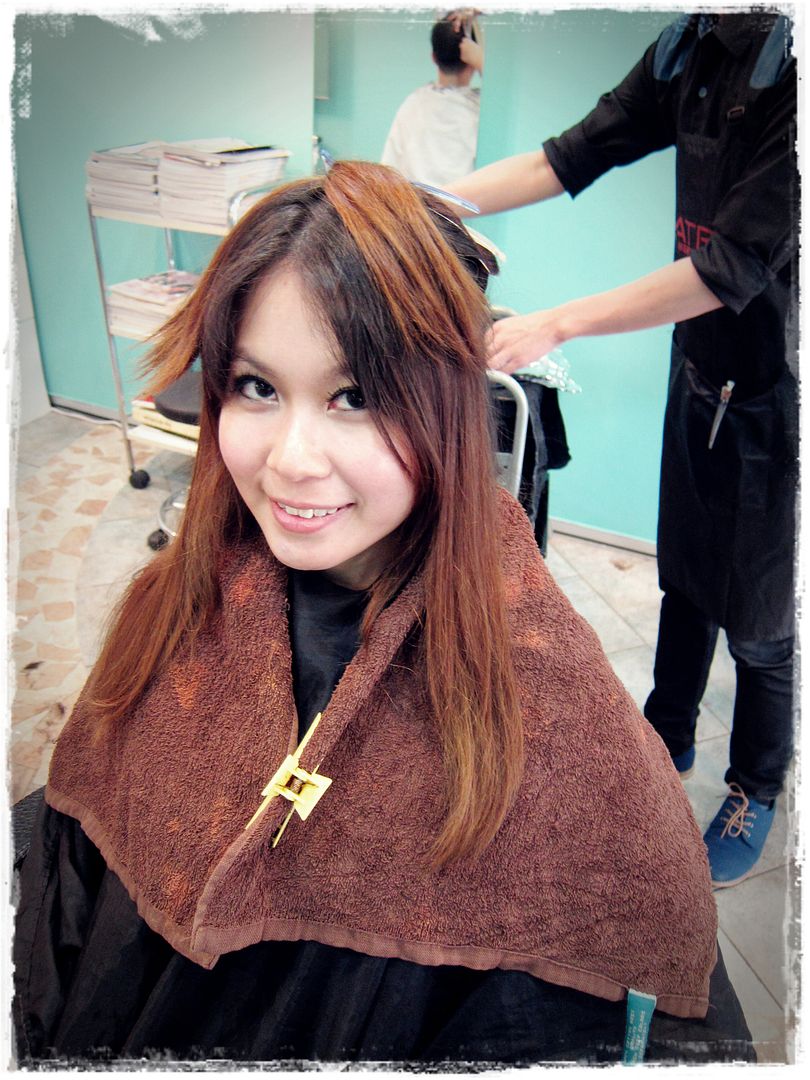 Unlike most hair salons where the hair stylist leaves the dye application work to his assistant, Kalvin painstakingly mixed the hair dye before he deftly applied the colours on to my hair with skilled precision. His dexterity and attention to details are highly commendable as he could instantly deliver the exact colours that I wanted.
I'm sure many of you have had frustrating experiences with hair salons that couldn't achieve the colour that you chose at the onset. With Kalvin around, you can cast your worries away and relax, knowing that your precious tresses are in the hands of an expert.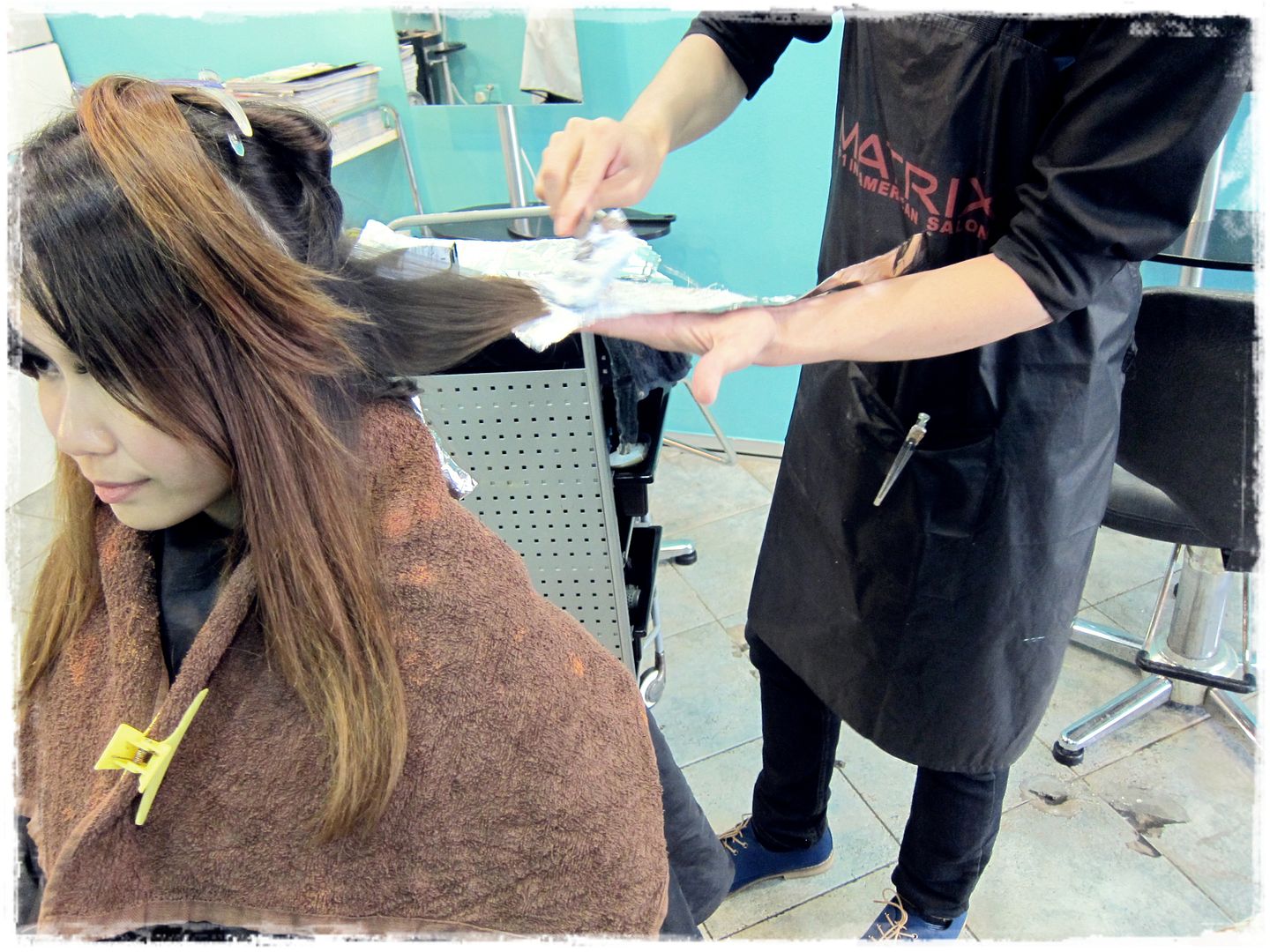 Did you know that there is a mini TV screen beside every seat at the salon? I thought that was very considerate, especially since chemical treatments usually take hours and customers like me would either browse magazines, fiddle with smartphones or doze off. Now, we can watch television programmes to occupy our time!
Time flies whenever I watch TV, so I was done with the colouring process in the blink of an eye!
Hair treatment is essential after colouring as it locks in your hair colour, making it last much longer. Of course, it also ensures that your hair is well-conditioned and silky smooth!
Check out my lustrous locks after Kalvin worked his magic with a flat iron! The ombre effect is even more obvious when my hair is beautifully curled.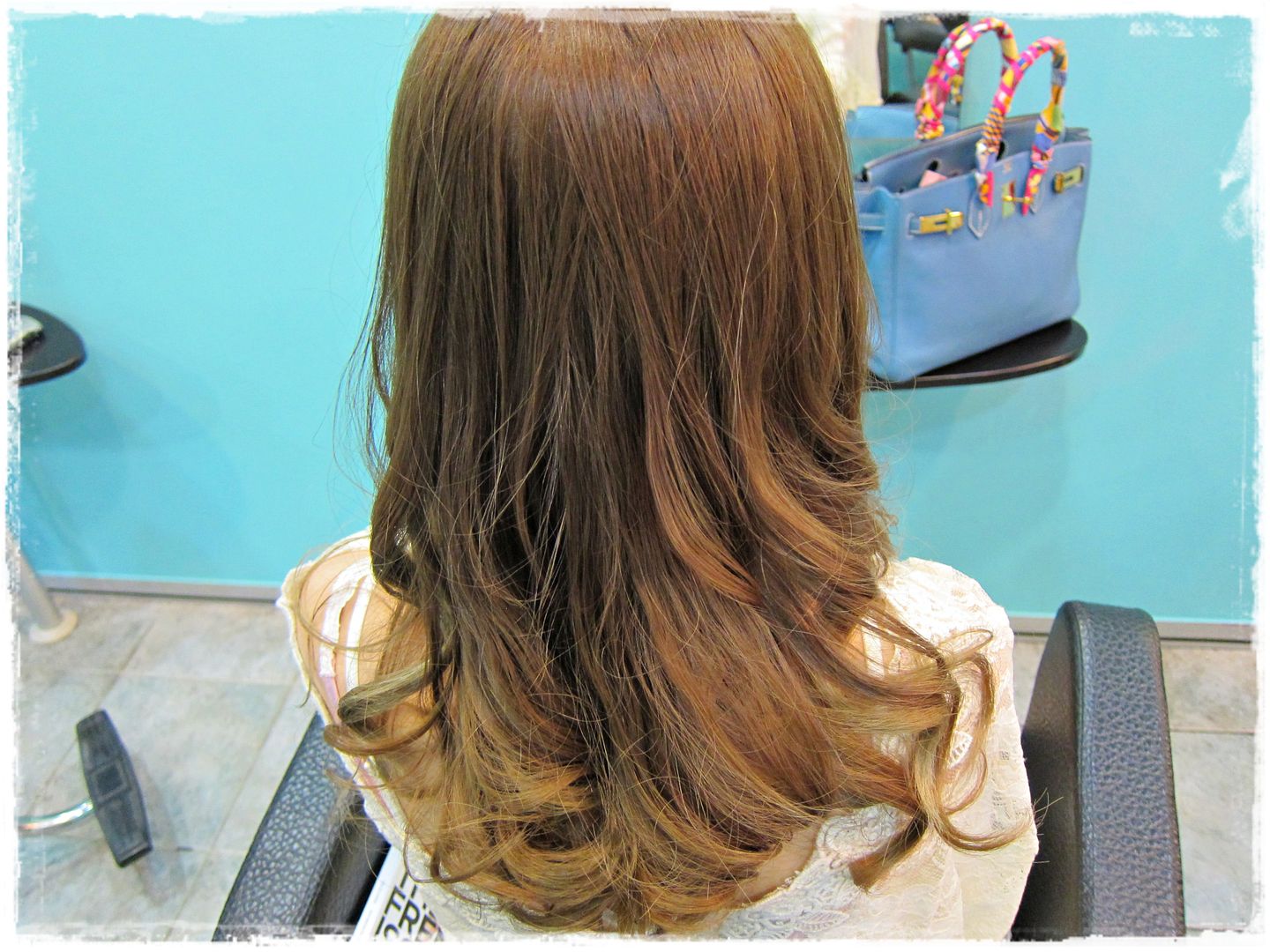 Here's the front view of my freshly dyed and curled locks
.
I love how the finished look complements my personality and style. Thanks to the hair treatment, my hair texture has also improved tremendously.
Parting shot with Kalvin.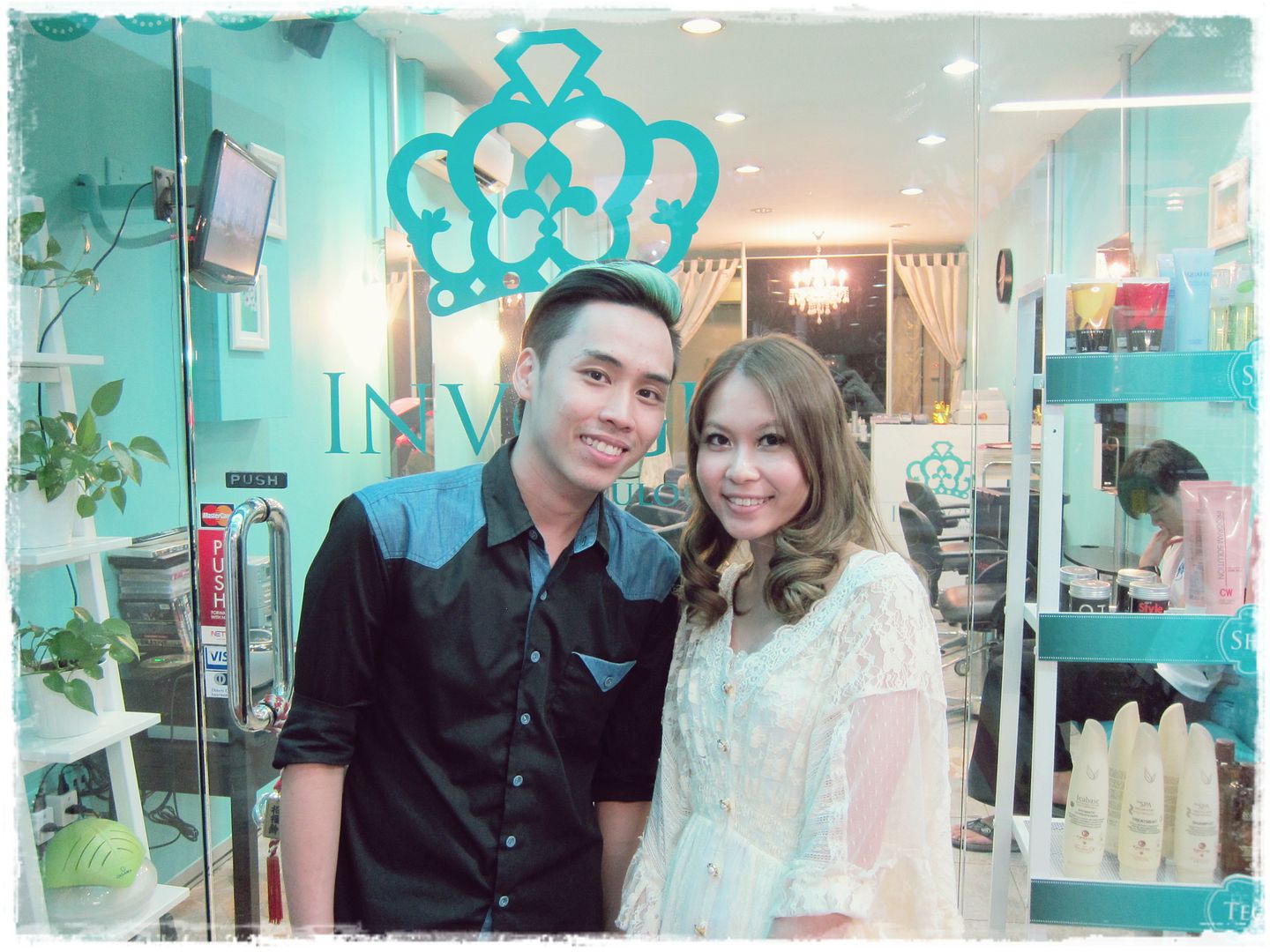 I usually patronize salons in town (and whenever I'm in Tokyo!) and the hairstylist I used to frequent in Singapore is a Korean, but in all honesty, I feel that Kalvin is just as good, if not better than all the hairstylists that I've gone to. I've always believed that the hallmark of a talented hairstylist lies in his/her ability to recommend hairstyles and colours that complement your overall personality and dress sense. Kalvin is amazing at that, and thanks to him, I am now the proud owner of beautiful, luscious, shiny locks!
Close-up of my hair after a long day of bridesmaid duties. The temporary curls are looser and more tousled, but the colour still shines through. In fact, even after several washes, my hair colour still looked as fresh as when it was first dyed! Thank you Invogue Singapore for a job well done!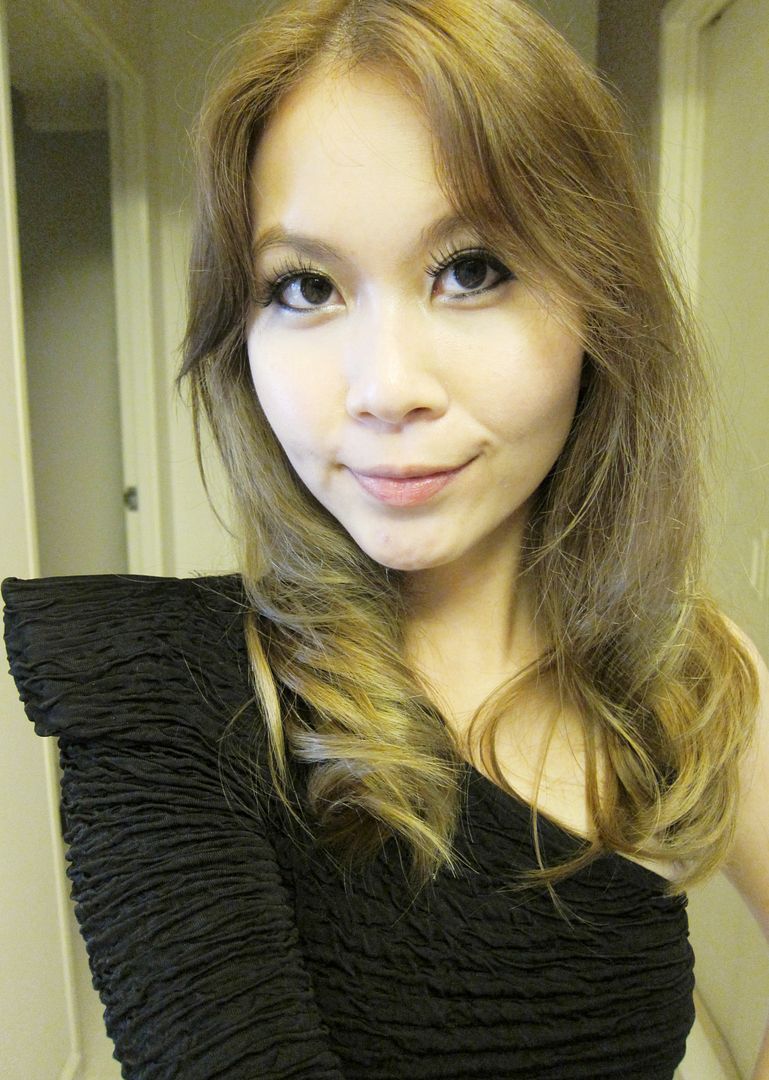 Address: Blk 139, Tampines Street 11, #01-18, S(521139)
Contact No.:
+65 9229 3989
Facebook: https://www.facebook.com/InvogueSingapore
Do you like my hair makeover?
Invogue Salon is now having a promotion, so do give them a call to book an appointment!
Hair Dye (includes haircut and treatment):
$59 (Short), $79 (Medium) and $99 (Long)
Rebonding: Prices start

f

rom S$170