Miranda Kerr
My friends would know that I'm probably the last person on earth to take a liking to basic tees, simply because I am such a huge fan of details, especially feminine details like lace, tulle, crochet and floral prints.
Well, things have changed. I recently added two plain basic tees (nude and white ones) to my wardrobe because I've finally come to realize how incredibly versatile they are.
Not convinced? Let's take a cue from the celebs!
Eva Mendes
If you love vintage style (like me!), you can pair a plain white tee with a retro print maxi skirt for a more feminine look, just like what Eva Mendes did. Cinch your waist with a statement belt to pull the entire look together.
Kate Bosworth
The basic tee can take you to work too! Wear it with a high waisted skirt, like what Kate Bosworth did over here for dress-down Fridays or throw on a jacket and you're all set for the boardroom. ;)
Gwyenth Paltrow
Wear a simple tee with bright colours to amp up the cute factor for the weekend! I like how Gwyenth Paltrow threw on a pair of printed platforms, lending a whimsical touch to the entire ensemble.
Rocker Chic
Ashley Simpson
An oversized graphic tee with jeans/leggings, complete with pointy pumps and a leather jacket can never go wrong, which explains why it's so commonly seen on the streets! To stand out from the crowd, add a splash of colour (check out Ashley Simpson's green sling bag) and bold prints (leopard print pumps in this case).
Finally, ladies and gentlemen, here's how I have been wearing my basic white tee these days.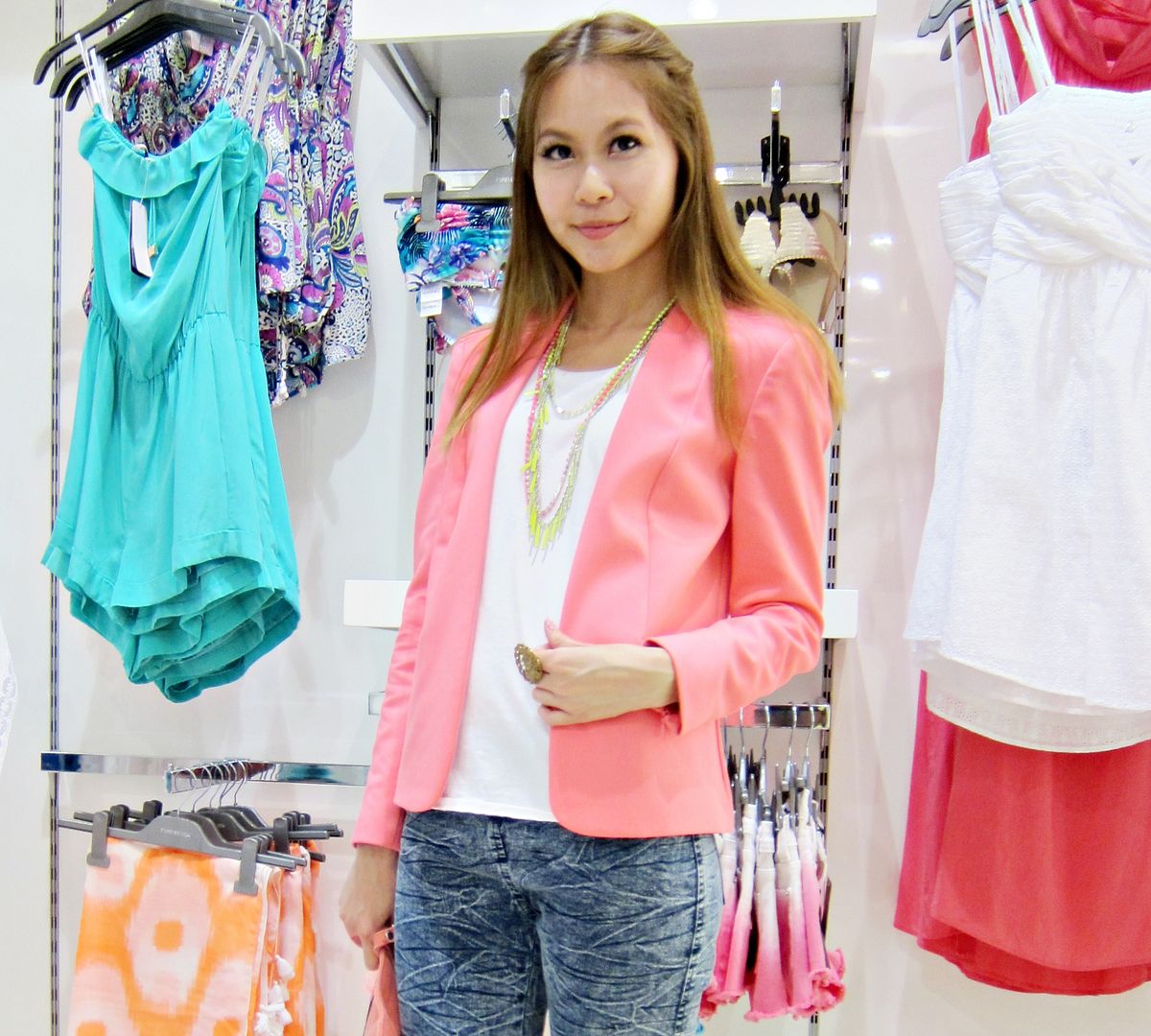 Pink ribbed blazer and neon necklace from Forever New
I like to wear my basic tees with casual cotton blazers or brightly coloured ones that add an unexpected pop of colour to the otherwise neutral palette. I tried on this pink blazer from Forever New recently and I'm bent on getting it!
The other great thing about plain tees is that you always have room to dress it up with statement necklaces and accessories, so let your creative juices flow and unleash the fashionista in you!