Hofburg Palace, on the other hand, served as the winter residence of the Habsburgs and is today the official residence of the President of Austria.
The most interesting and colourful character in the Habsburg family would have to be Empress Elizabeth, otherwise known as Empress Sisi.
Over at the Sisi Museum, you can catch a glimpse into the life of the often misunderstood yet exceptionally beautiful Empress Sisi through her personal artefacts (there are more than 300 of them on display!) and her ostentatiously designed rooms.

I was very attracted to the Sisi Museum as I could relate to the Empress in many ways. In spite of her wilful ways, I could empathize with her plight and her constant desire to break free from social norms and conventional court rituals. This caused her to suffer from wanderlust and she was always travelling around Europe under a pseudonym.
The price of being crowned an Empress was freedom, which she yearned for ceaselessly. She even had her very own luxury carriage!
Her relentless pursuit for freedom eventually cost her her life at age 60. An unfortunate twist of fate led to her tragic end while she was on holiday in Geneva. Her assassin was hoping to kill a prince from the House of Orleans, but turned his attention to Empress Sisi instead after her cover was blown in the local newspapers. She was stabbed in the heart.


Besides her penchant for freedom, Empress Sisi was also known for her beauty, fashion sense and her draconian diet and exercise regimen. She was extremely vain, as evidenced by her tireless efforts to preserve her beauty.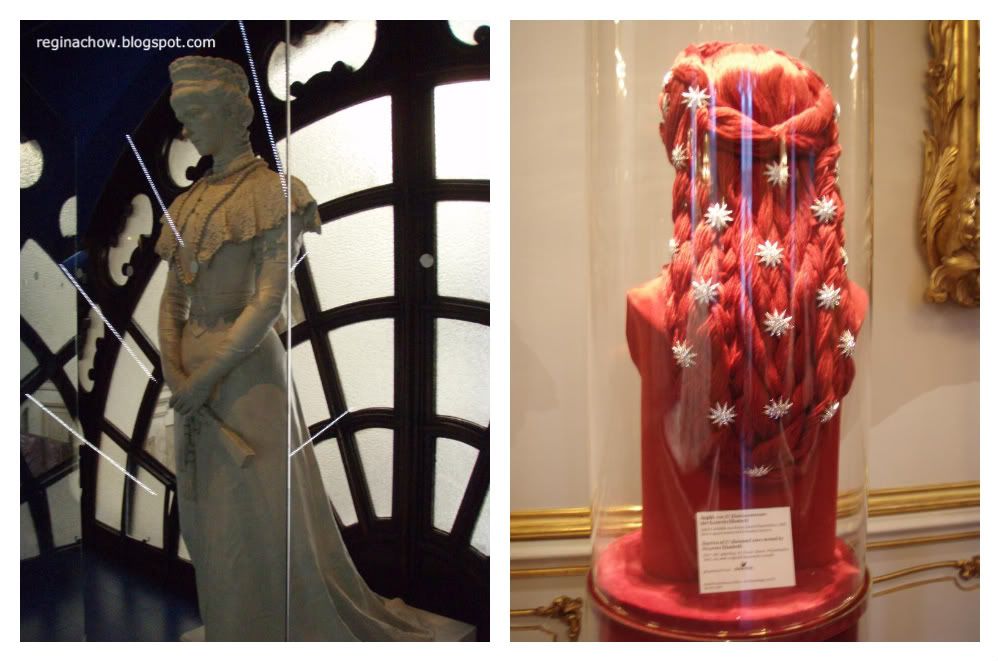 Vain as I am, I can never imagine taking half a day to wash my hair and spending another 3-4 hours just to style it. Well, but that was exactly what Empress Sisi did!
Incredible isn't it?

She also stuck to a very strict regime to maintain her 20 inch waist. With Royce chocolates, Awfully Chocolate dark chocolate ice-cream and Best Fries Forever (YUMMY!!!) all within my reach, I can never imagine myself going on a diet.

Empress Sisi was also romanticized in many Hollywood films and musicals, the most famous being Sissi - Forever my Love. She was portrayed as a public figure in these films, but in reality, the Empress was anthrophobic and often went around town with a scarf shielding her face.

Here's a short clip on Empress Sisi in the movie Sissi-Forever my Love. The song, I belong to me, is from the Empress Sissi musical.



Have a great weekend everyone!