First of all, here's a big thank you to all of you who have supported my earlier sale posts!
I finally managed to photograph the other items that I brought back from my recent Bangkok trip.
Sorry to have kept you ladies waiting for so long! To make it up to you, I've prepared a special sale post for you.
In this post, you will see not 1.... not 2.... but a total of 3 items for sale!
The best part is, they're all going at S$26 each!
What better way than to start the weekend right? :)
1) Vintage Candy Stripes
- SOLD -
and


2) Green High Waist Shorts
- AVAILABLE -
Vintage Candy Stripes is a lovely casual top made of polyester. I like how it goes well with practically anything. You can tuck it into a pair of shorts, like the Green High Waist Shorts here, which is made of very good quality thick cotton material (comes with a side zip and side pockets too).
Price & Measurements
Vintage Candy Stripes Top: S$26 (Width 21.5", Length 25")
- SOLD -
Green High Waist Shorts: S$26 (Width 13", Length 12")
I was attracted to this pair of shorts because I first saw a similar pair at Zara retailing at a much higher price. The workmanship is of top-notch quality. Absolutely no regrets.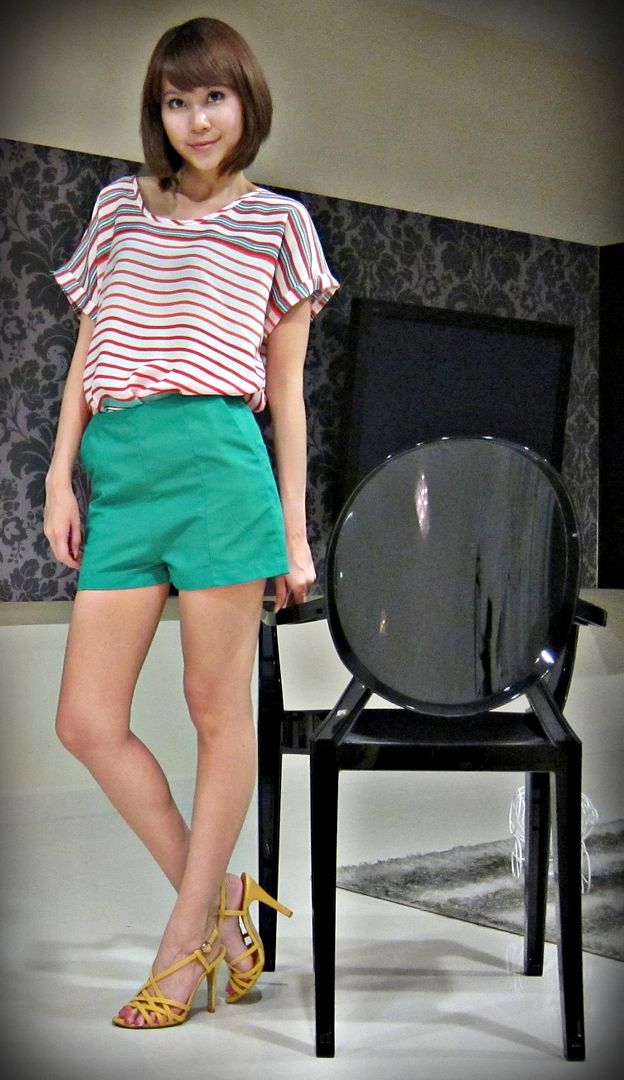 You can also tuck the top out for a more laid-back weekend look.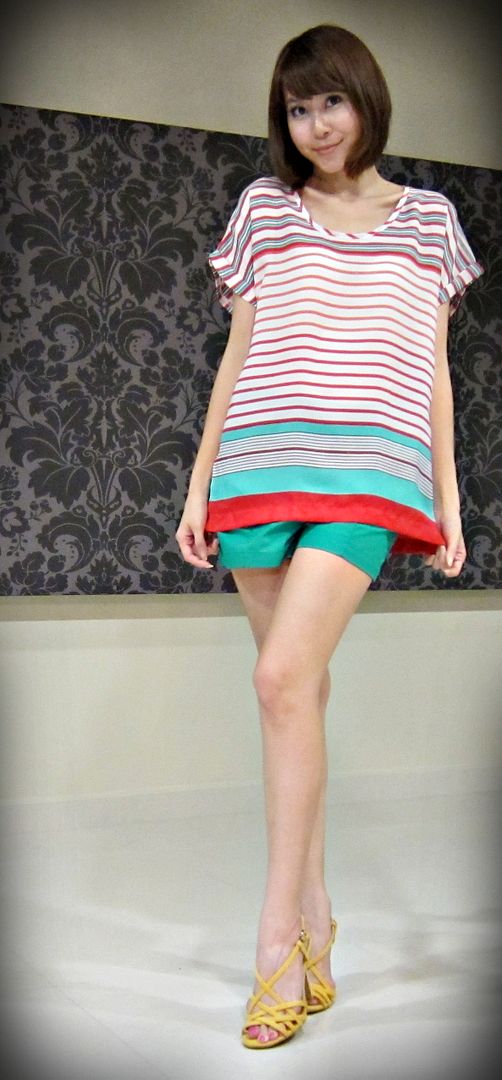 3) Canary Breeze
- SOLD -
Canary Breeze is another top that goes well with the Green High Waist Shorts and is in line with the Colour Blocking trend.
It is made of soft, slightly sheer chiffon material and comes in a cheerful yellow hue. The front of the top can also be tied loosely (as shown below) or tied into a bow depending on your preference.
Price & Measurements
S$26 (Width 13" Length 24")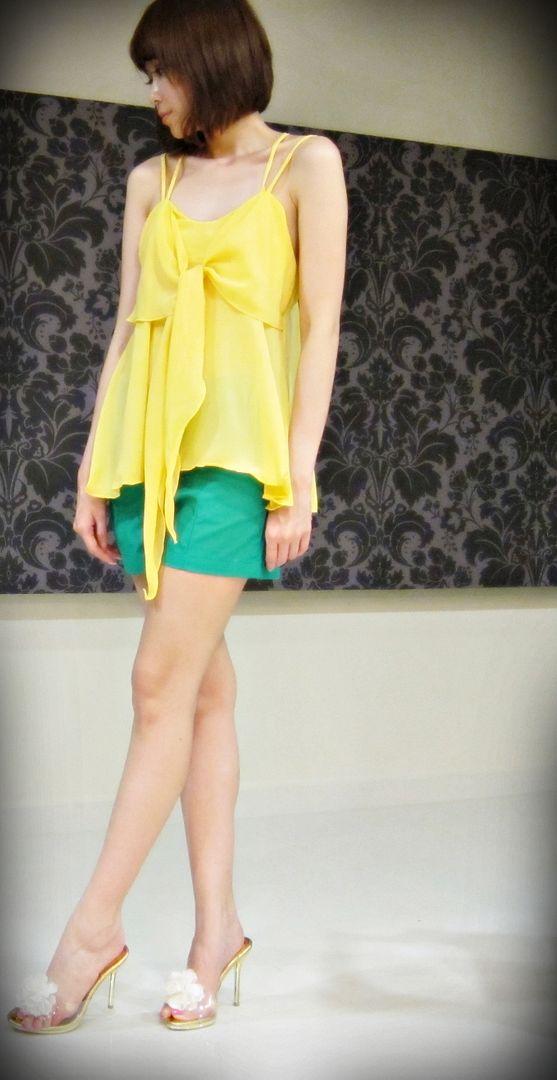 I especially love how the top flows, bringing out the softness of your silhouette.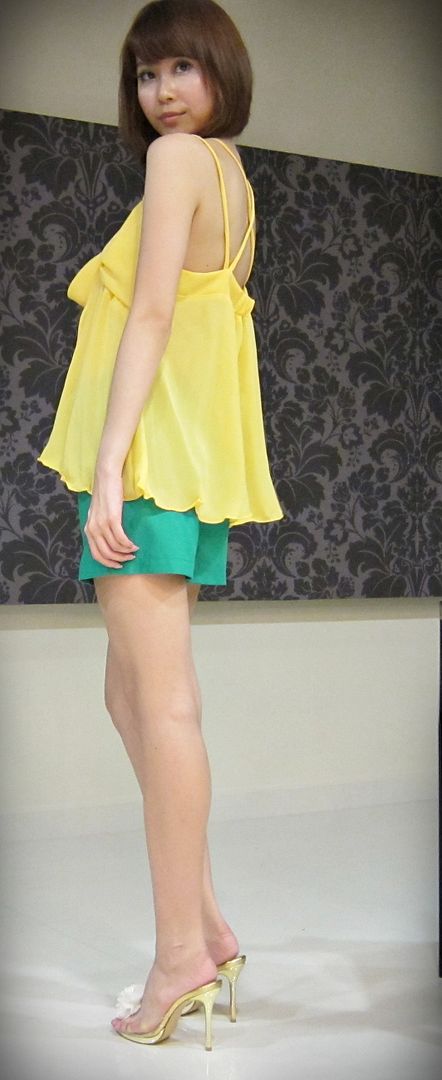 The unique shoulder straps only serve to enhance the femininity of the female form. Gorgeous isn't it?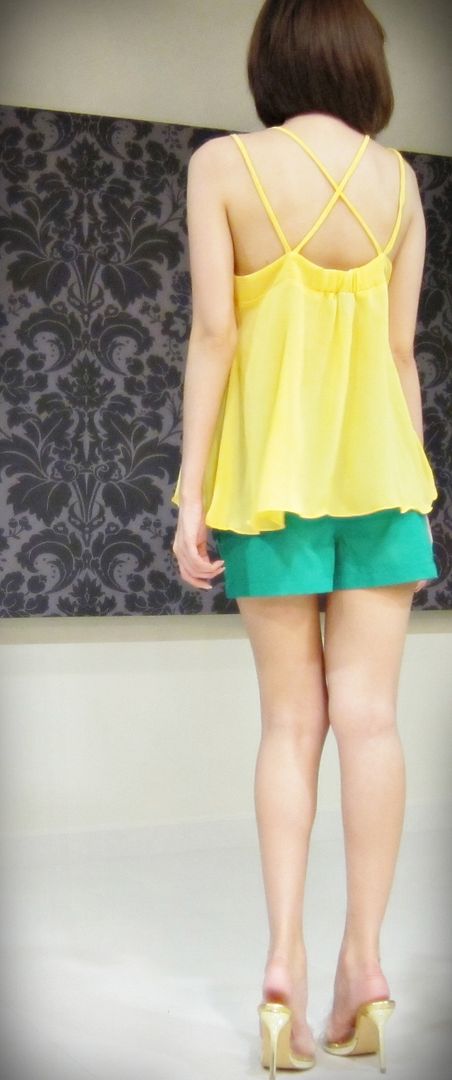 I love all the items here and couldn't resist keeping one of each for myself!

As usual, there is only one of each for sale to ensure exclusivity.
If you're interested in any of the above items, do drop me an e-mail at
regina.chow@gmail.com
to place your orders!


International shipping is possible but the shipping cost will have to be borne by the buyer. :)
Please note that I will not be responsible for any loss of items via normal mail postage. All goods sold are non-refundable.
Follow me on
Facebook
or
Twitter
for more blog and outfit updates!