How has your weekend been? My Sundays are usually spent having lazing around with my other half, having late brunch, wondering around parks and watching DVDs in the comfort of my home.

Today, we had brunch at Choupinette, a quaint little French cafe along Bukit Timah Road (beside Coronation Plaza). There's a very homely feel about this place. It's almost like a french cottage, with french music wafting in the air, beautiful floral paintings and wooden furniture juxtaposed against mismatched chairs reupholstered in eclectic fabrics.

We shared a milk chocolate eclair, which was very delicious. The eclairs here run out pretty quickly, so thank goodness we ordered ours at the start of the meal. JW had the beef stew with mashed potatoes while I went for the Eggs Royale set, which is essentially poached eggs with salmon on toasted bread.
The set also comes with a juice and a hot drink of your choice from the menu.
The stew is nothing out of the ordinary but the Eggs Royale is beyond flavourful. Usually, I get sick of eggs benedict very easily because of the rich hollandaise sauce, but the salmon adds an additional dimension to this dish, making it less of a challenge to make it to the finishing line.

Here's what I wore for brunch.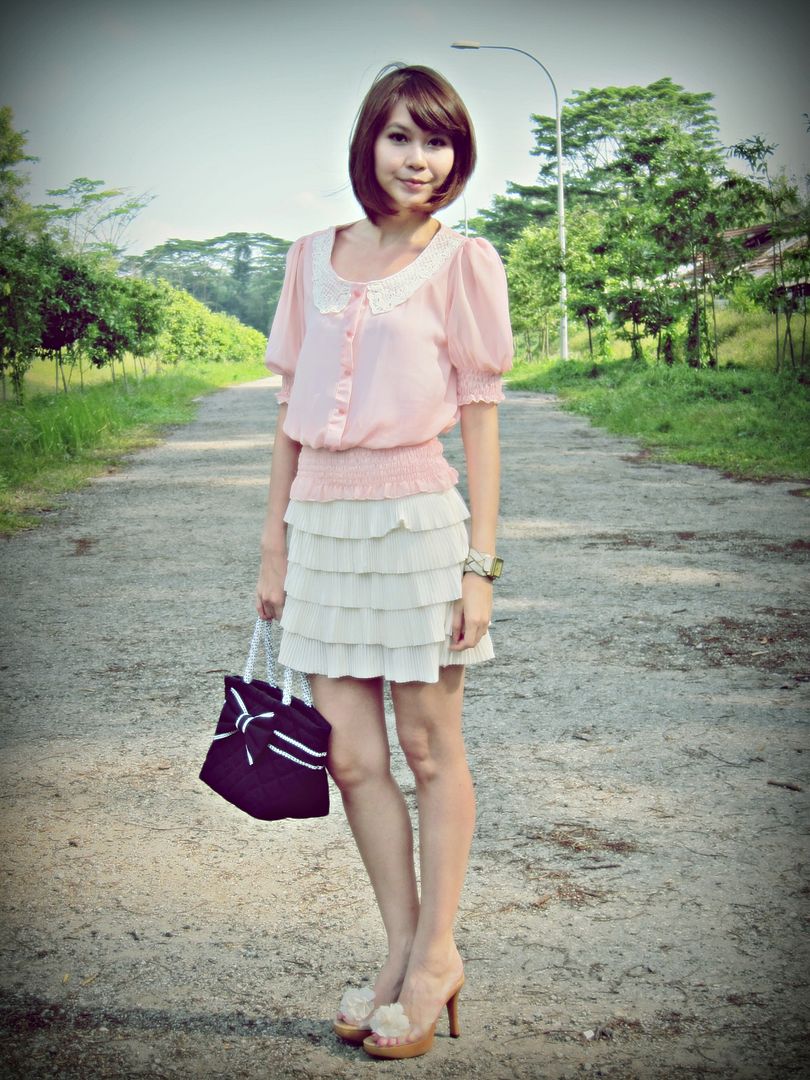 Crochet Puffed sleeve Blouse from Korea
White Tiered Skirt from Forever21
Transparent Heels with clip-on flower from Far East Plaza (made in Korea)
Bag from Naraya (from my Bangkok trip)

I've been on the lookout for tops with interesting collars and this lovely chiffon puffed sleeve top from Korea (made in Korea tag is intact) caught my eye! The intricate crochet details literally blew me away.


As a reward for reading this far, I've brand new pieces (very limited quantity) of this beautiful Korean blouse for sale!
Price & Measurements:
- ALL SOLD -
Crochet Puffed Sleeve Blouse: S$32.90 (inclusive of normal mail postage)
Width: 17.5" Length: 24"

Please note that I will not be responsible for any loss of items via normal mail postage. All goods sold are also non-refundable.