A trip to Australia (or anywhere for that matter) will never be complete without a little rockclimbing for JW. Last Saturday, we embarked on our journey to the Blue Mountains, Australia's rockclimbing mecca. We met up with JW's friend, Assad, at Boronia Point before our descent into the great abyss of mud, dirt, and trees.
Yes, before you get to climb, you first have to do some bushwalking, although this seemed more like
jungle bashing
to me (JW agreed with me on this one).
I was not prepared for this despite my earlier adventures in Rodellar, Spain.

The terrain was tightly lined with bushes, thorns and trees, accompanied by countless wet puddles of mud and slosh thanks to the heaviest rainfall that Sydney has ever experienced, which took place just a couple of days before.

It didn't help that JW and I were both wearing our Keen shoes, which are essentially shoes that look like sandals.



Needless to say, our feet and shoes ended up soaking wet.
Did I also mention that I brought my prada gauffre sling bag with me? I must have been out of my mind. It was a miracle that both my bag and I emerged unscathed.
There were also many slippery sandstone formations 2-3 times my height that stood erect at 90 degrees with hardly any footholds and I had to rely on the 2 strong men or the tree branches around me for support as I clambered over the rocks with much difficulty, one after another. I seriously have no idea how the climbers could WALK down the rocks with such incredible ease (akin to walking down stairs) when there are absolutely no gaps for you to place your shoes and one wrong step will send you, quite literally, to the abyss of no return.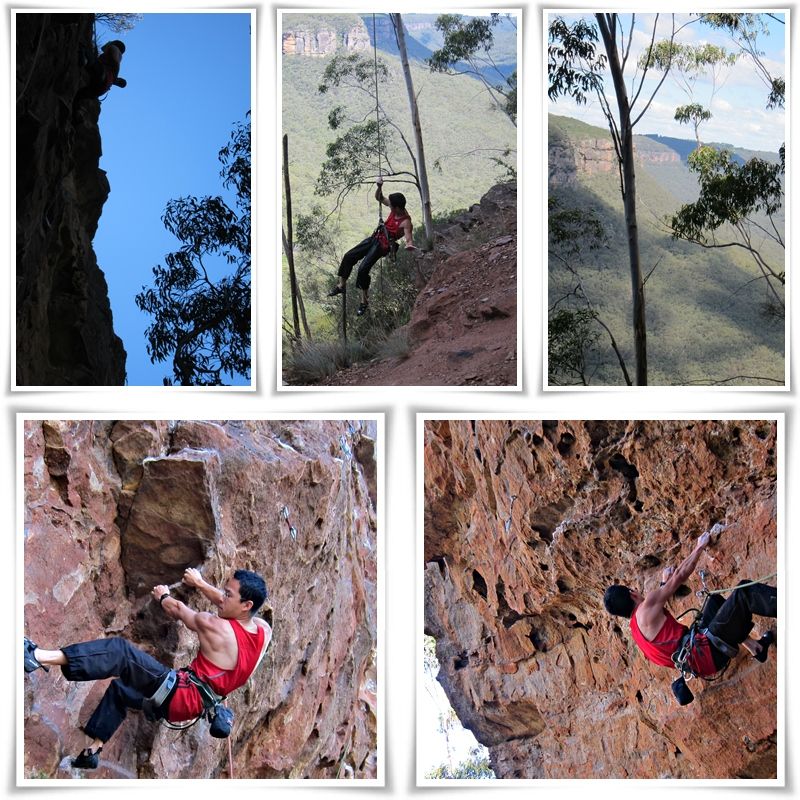 Whenever I had no idea how to conquer these huge rocks, I sat myself down or simply went on all fours, like a dog. Haha! Don't ask me how I made it there and back. I refuse to think about it and I'm pretty sure that would be my first and last time there. Cross my heart!
I honestly think that no other tourist (other than rock-climbers) have experienced Blue Mountains the way I have. JW joked that I am probably the most well-traveled non-climber. LOL.
This is what normal tourists would go to Blue Mountains for - The Three Sisters.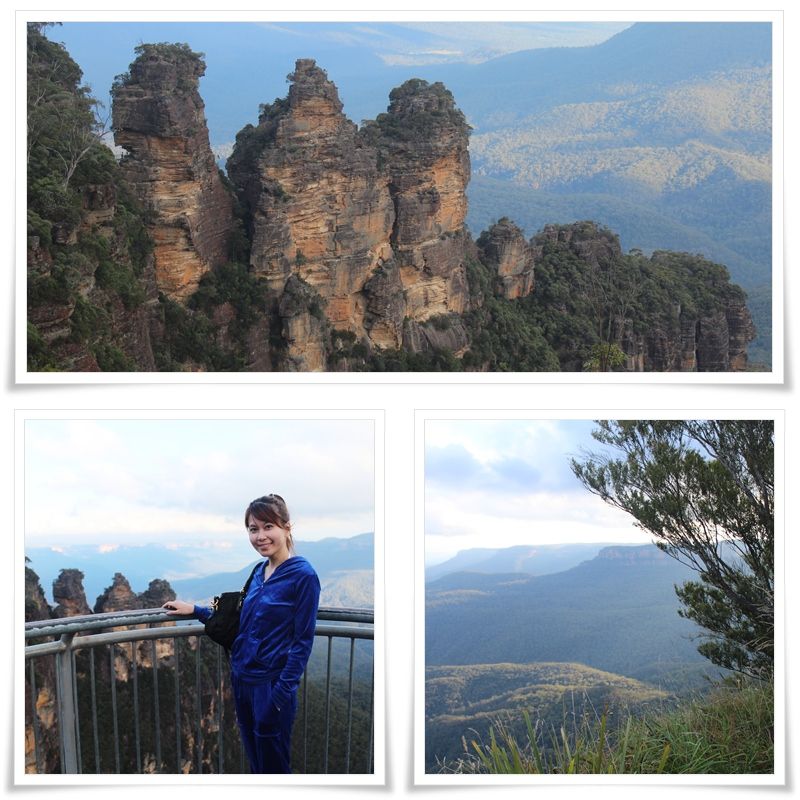 "The commonly told legend of the
Three Sisters
is that three sisters (Meehni', 'Wimlah' and Gunnedoo') lived in the Jamison Valley as members of the Katoomba tribe). They fell in love with three men from a neighbouring tribe (the Nepean tribe), but
marriage
was forbidden by tribal law. The brothers were not happy to accept this law
and so decided to use force to capture the three sisters. A major tribal battle ensued, and the sisters were turned to stone by an elder to protect them, but he was killed in the fighting and no one else could turn them back. This legend is claimed to be an
Indigenous Australian
Dreamtime
legend." - Wikipedia
The three sisters certainly don't look very much like one another, except for the patch of vegetation perched atop each peak. Looks a little like hair doesn't it? :P